Build Your Own
Bathology Wellness Kit
with
YOUNG LIVING THERAPEUTIC GRADE
ESSENTIAL OILS



PERSONAL SOURCE BATHOLOLOGY
& WELLNESS KITS OFTEN FOLLOW A
WELLNESS CONSULTING
SESSION THAT CAN INCLUDE
A CUSTOM CO-CREATED
HYPNOTHERAPY CD TO LISTEN TO IN YOUR BATH, BEFORE BED, OR AS NEEDED TO FOCUS ON YOUR VISIONS.
YOU CHOOSE THE ISSUES,
IMAGES, & MUSIC.

ALIAH ALSO OFFERS
COCREATIVE HEALING SESSIONS
AND OFFERS CLIENTS SELF-HEALING TOOLS TO DO AT HOME... BEST
FOR THEIR SPECIFIC CONDITION.
SHE ALSO TEACHES
CELEBRATIONAL SEMINARS & Qigong CLASSES

For more info on a hormonal supplmemnt you do by TASTE for individual needs that Aliah was lead to discover & develop - the "HH9 Series".

ALIAH HAS DEVELOPED & TEACHES SEVERAL
SELF HEALING TOOLS:

Appreciations Flow:
For Hormonal Harmonization - great to use with the Hormonal Harmonization Blend or Progessence Plus - this Flow helps orgasms
to flow more easily.

YOU CAN LEARN
Appreciatons Flow
and many
other Healing Tools that can help
hormonal symptoms for
HORMONAL HARMONIZATION

Essential EFT
For Emotional Calm with Peace & Calming Essential Oil using the
Blessings Flow EFT Tapping Song
(EFT: Emotional Freedom Technique)

Essential Affirming Acu-Facial
using Young Living ART Botanicals, or Essential Oil Blends for the skin

Essential Everyday Qigong
with Everyday Oils Kit
with Qigongs's 8 Pieces of The Brocade
AM STRENGTH TRAINING
PM DEEP SLEEP & INNER CALM

Lotus Heart Qigong:
Path of Compassion
& Interdependent Support
&
Yogadance ∞9 Qi Flow:
A Moving Mantra Meditation -
a dancing yoga set that is blended
with Qigong.

9 Qi Flow Fridays 4-6 at:
BODY & SOUL YOGA STUDIO
738 Chestnut Street, Santa Cruz

This is a moving meditation that is a path to healing Co Dependency & Addictions through understanding
our part in the dance...
so that we can flourish creatively
in love and life.

Ongoing classes & private sessions
For best results use with THE FEELINGS KIT.

Moon Cycle Qigong
for Home Life Prosperity
A Moon Manifestation Program

4 classes beginning
at the New Moon for those
on the Lotus Heart Path and can also be used with Inner Motivational Essential Oils
of your choice including:
Magnify Your Purpose,
Envision, Highest Purpose,
Into The Future, Transformation,
& Inspiration.


Personal Source
Wellness Programs


BEING IN EASE:
Calming Relaxation -
A Way to Flowing Days
& Restful Sleep



GROWING LIGHT:
A FOODCOOL"LIVE IT"
An Approach To Weight Management Through Ongoing
Optimal Wellness



ENERGY
IN A-BUN-DANCE:
Energy Superfood Supplements &
AromaTone Qigong
Self-Healing Tools PLUS
CoCreative Arts Expression



LONGEVITY WELLNESS:
A Hormonal Harmonization Focus with Supplements
& Energetic Tools
For Optimal Vitality



LEARNING
& MEMORY EASE:
Optimal Wellness for
Brain & Body Longevity
Superfood Nutrition,
Nootropic Supplements,
& Quantum Solutions
Learning Tools

ALL PERSONAL SOURCE WELLNESS PROGAMS INCLUDE:

SELF-MUSCLE TESTING &
FOODCOOL SHOPPING:
Intuition Strengthening Tools & Guidance With Experience
In The Latest Research
For Your Condition.


Healing happens naturally:
when we listen to the wisdom of the body and heart... our inner guidance
as well as the wisdom
in guidance all around us.
Looking to those who love us in interdependent ways.. or
or if need be, cultivating
those around us who do.

Aliah can help with this... and in understanding how when we
take back our energy
from places that drain us....
and focus our energy on what feeds our souls with energy... this connects us to our life purpose more and this help all conditions to heal more... as we build our strength to cleanse the body, heart, mind, and soul . This empowers us and leads us into a place of gratitude for each step along the path.

Personal Source Wellness offers
Wellness Consulting:
Personal Programs &
Longevity Research
Ancient wisdom and healing tools along with research findings from the latest breakthroughs
in natural products for your specific needs.




Aliah Selah Clar Rheinstein
CMT, ABT, (DMP, D.Sc.) Ph.D.(c)
Transformational
Wellness Consultant
CA Certified Massage Therapist
and Asian Bodywork Practitioner
focusing on Medical Qigong.
Ph.D. in Holistic Life Counseling.

Aliah is a Qigong & Yoga Instructor,
Sound Healer. Aromatherapist,
Reiki Master, and EFT Specialist
who offers Healing Tools and
Integrative Research
for the latest findings on your
specific condition.

Aliah teaches her clients & students how to listen to the needs of the body through Self-Muscle Testing and Nutrition latest breakthroughs in Superfoods
& Medical Qigong.



Aliah has studied Edgar Cayce
Readings and Remedies
for over 25 years as part of her Wellness Consulting
that has offered many
miracle healings in her clients
and her own life.
She began to understand...

Insights Into
THE ANATOMY OF A MIRACLE.




Many miracles have come over the years from living a
Wellness LIfestyle with
YOUNG LIVING Therapeutic Grade Essential OIls & Essential Nutrition Superfoods.

FIND OUT WHY SHE ADDED
PEPTIDE BIOREGULATORERS
to her healing process - to add with her
HH9 Series - that now has HYDERGINE
at the end - dissolve in our mouths - helping our teeth and the organs they feed and then it is swallowed with a prayer.
Get the amazing results here:
HH9 SERIES UPDATE:



She has done Phase 1-4 of the HH9 Series Study with Peptides, Hydergine, Oxytocin, and many Adaptogen Superfoods.

All this an more at - a company with integrity -
InternationalAntiaging Systems:
HYDERGINE & for optimal learning and wellness.
And for Hormonal Needs: OXYTOCIN
(Autisum, Stress, Sexual/Hormonal Needs)


And for all healing needs she's adding the latest in nutrition... the STEMTECH line of products offering a natural way to increase and strengthen our own
Adult Stem Cells - for Optimal
Health, Wellness, & Learning.

Aliah specializes in Brain & Hormonal Issues along with many things that support it in a Wellness Lifestyle.
They were also part of her
healing journey and she is
always learning more
about what heals us.

She shares what worked for her and clients and loves to do integrative medical research to help clients to add holistic answers
on their healing path.

Aromatherapy & Nutrition from
YOUNG LIVING
has been her focus for over 15 years now. They were always in the forfront with Bio-Identical Hormone Balancing through nutirtion. She is very focused on how hormones play a role in all conditions and focuses on Hormones and Cleansing the Digestive & Lymph Systems - for all conditions.

She also offers Strength Building & Cleansing Support to aid
in healing all conditions.
She offers Vibrational Raindrop &
AromaTone Qigong Sessions,
Self-Healing Tools, & Classes. (www.cocreative.us).


ALIAH SPECIALIZES IN
LEARNING, MOOD, &
& HORMONAL ISSUES
And understanding how
they are all related.


HH9 Series: a Hormonal Harmonization Blend that you do by taste that she was lead to
by Edgar Cayce & Friends.. read her story
of how she was lead to
Discover & Develop HH9 Series with HYDERGINE - that earned her an Honorary Doctorate in Integrative Medicine.

Read her story:
My Stroke Of Intellect
& The Sound Of OM -
Insight into The Anatomy Of A Miracle



Aliah sends OM
Long Distance Reiki Healing
to all who reach out.

Gratitude and a joy of life towards our life purpose... raising our vibrations - allowing us to attract those with lighter energy to us.

We begin to feel more alive inside - laughing & smiling more - & this
is what heals us.


Doing the HH9 Series
for Hormonal Harmonization you take by TASTE is a part of the
LOTUS HEART QIGONG





TO BUY/LEARN MORE:
aliah.stemtechbiz.com

YOU ARE THE
PERSONAL SOURCE
FOR YOUR OWN LONGEVITY.

Supplements
for healthy skin & overall
health needs...
from our own Adult Stem Cells
is NOW a reality.


NOW IT IS POSSIBLE...
to take a Stem Cell Enhancement supplement - SE2 with mixed sources:
(Blue Green Algae, FoTi, & Seaweed)
that increases & strengthens our own Adult Stem Cells
from our bone marrow and this can help many conditions to improve.




CLICK ABOVE TO HEAR FROM SCIENTIST CHRISTEN DRAPEAU MSC.
WHO OFFERS THE SCIENCE BEHIND
STEMTECH - ADULT STEM CELL
ENHANCEMENT NUTRITONALS.

ADULT STEM CELLS IN ACTION:


Enhancement of ADULT STEM CELLS through Superfood Nutrition - is available now and offers a way to optimize your own immune system.





Everything is shifting...
transitions are
happening faster and Transformational Healing can happen very fast
when we focus
on a totally positive focus
and listen to the body, heart, and mind to bring together a pathway that heals all those by discovering the best possible choice to choose for that moment.
And continually doing more positive things that are good for the body -
a Wellness Lifestyle.


IMMUNITY BUILDING:

POSTURE CENTERING & STRETCHING
PURPOSE CENTERING MOVEMENT

ADAPTOGEN SUPERFOOD SUPPLEMENTS

ORGANIC WHOLE FOODS

& POSITIVE THOUGHTS
& ACTIONS TOWARDS
OUR CALLINGS




So many people have experienced
miracle healings...
that Doctors just
can't explain
yet there are
similarities to them.


ALIAH HAS FOUND THAT FOCUSING ON POSITIVE COMMUNICATION WITHIN -
IS WHAT ALLOWS
FOR AN EFFORTLESS
WELLNESS LIFESTYLE
& IS A VITAL TOOL IN
CO-CREATING MIRACLES.



THE ANOTOMY OF A MIRACLE REVEALS...




The archetypal elements
of what culminates
in a miracle healing...
lead by the process of integrating
the whole person -
and allowing harmony
in the body heart, mind,
and soul through
focusing on
ones calling.
Taking steps
towards visions for the future
for ourselves and
those we love around us.


TAKE CARE OF YOURSELF
AND YOUR LOVED ONES -
INTRODUCING
PERSONAL SOURCE'S
NEWEST KIT....

RADIATE IMMUNITY KIT:
NATURAL ANSWERS FOR DETOXIFICATION

For nutrients to protect the Thyroid:

1. For optimal Calcium assimilation for strong bones, neruotransmitters, hormones, and Adult Stem Cells:

(HH9 Series)
Hormonal Harmonization
Series of 9 Natural Nutrients
taken by taste - for the current needs of the body in that moment.

2. For rebuilding any cell damage Adult Stem Cell Optimal Nutrition:

StemTech SE2 - Adult Stem cell Nutritional Enhancement

3. For detox from heavy metals - including low level radiation:

ZeoForce by HealthForce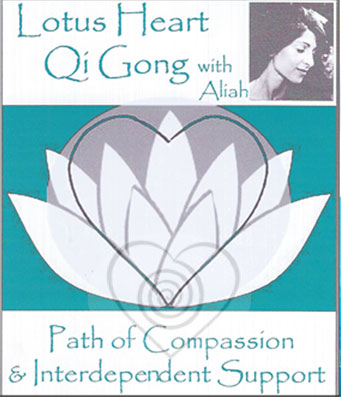 Aliah offers this program that can be seen as an 11th Step on the path of recovery.

Aliah teaches all her Clients & Students Self-Muscle Testing.
It gives us a way to listen & understand
what the body knows that makes us stronger & gives us vitality and endurance,
This supports us in following thorough with our visions
so that they are grounded on being healthy.

The foundation for all visions - is being healthy.
And the focus of being interdependent in our releationships.

This allows us to understand
how to give and receive Interdependent Support
and to not be attracted to what makes us weaker.

As we tune into our
life purpose... and feel the good energy of being healthy -
we can follow through on our visions more easily.
Yet we all need interdependent support to do this.

LOTUS HEART QIGONG & YOGADANCE QI FLOW
offers a path to find the ease in flowing between giving and taking -
the dance of Interdependent Support

This is when miracles begin to happen to keep us on track.
And we are simply no longer attracted to things that take away our energy...
we have chosen - the path of healing.

LOTUS HEART QIGONG & YOGADANCE QI FLOW
offers understanding in how interdependent support heals the whole self
toward one's life purpose and this is what heals us all.

IT IS TIME THAT STUDENTS ARE ALLOWED
TO LEARN IN A WAY THAT IS OPTIMAL FOR THEM.


FOLLOWING THEIR INTERESTS... AND ALLOWING THEM TO GO DEEPLY INTO WHAT THEY LOVE TO LEARN ABOUT TO SHARE IT WITH THE OTHER STUDENTS - AS WE LEARN WHAT WE LOVE

OUR RECALL IS A JOYFUL PATH OF REMEMBERING.

THERE ARE SO MANY WHO AGREE THAT THIS IS HOW THE BRAIN LEARNS BEST... AND YET HOW DO WE GET THE SCHOOLS TO AGREE & GET THEM FUNDING
TO BE ABLE TO MAKE THE SHIFT?


We are visioning on a peaceful healthy education
& caring healthcare.

Asking ourselves - what does that look and feel like?

AND HOW CARING HEALTH CARE & HEALTHY LEARNING
IS A HUMAN RIGHT.



TOGETHER, WE ARE COCREATING US!

GO TO THE SITE AND
SEND US YOUR RESPONSE

AFTER VISIONING ON...
&/OR BEING INSPIRED BY
READING THE UN UNIVERSAL
HUMAN RIGHTS PEACE DECLARATION
&
GLOBAL HEART VISION.

PEACEFUL HEALTHCARE & EDUCATION
TOGETHER WE ARE COCREATING US

www.cocreating.us

SEND US YOUR VIDEO, MUSIC, POETRY,
COMMENTS & INSIGHTS...

DO YOU ENJOY THE RIGHT TO BUY THE SUPPLEMENTS YOU CHOOSE?
BECOME A HEALTH ACTIVIST NOW - APPARENTLY WE HAVE TO SHOW
THE NEED FOR CHOICE.
SO TAKE ACTION NOW FOR OUR HEALTH RIGHTS NOW & IN THE FUTURE
Senator John Mac Cain's Dietary Supplement Safety Act of 2010 bill seeks to make people have to go to their Doctors to gain access to supplements. Many of their Doctors have not even learn anything about nutrition in medical school where it is considered an elective if taught at all. This means that those of us who have watched supplements again and again save lives to understand how import it is that we take action against this bill.
(Continued at PS NEWS.)

THIS NEW BILL SEEKS TO BAN CONSUMER ACCESS TO DIETARY SUPPLEMENTS - THIS MEANS
ALL SUPPLEMENTS!

TAKE ACTION NOW - AT LIFE EXTENSION FOUNDATION

If we don't take action now -
breakthrough nutritional supplements -
as well as things as basic as Vit. C -
may not be legally available - the drug companies are scared of the wellness movement... because it is better for people and they know it. So laws are their only way to enforce people to take toxic drugs instead of the many healthy choices we now have.


Also, if you live in California:
Oppose CA AB-575!

Stop the Dietitian Monopoly in California and
Allow Alternative Healthcare
by taking action through the
Alliance for Natural Health.


HAVE YOU EVER ASKED YOUR DOCTOR THE INGREDIENTS OF VACCINATIONS?

MOST DOCTORS IF THEY ARE HONEST WILL TELL YOU THEY DON'T KNOW - BUT A FEW HAVE LOOKED INTO IT... AND

MANY DOCTORS ARE NOW AGREEING NOW THAT VACCINATIONS ARE TOXIC! THE GOOD NEWS IS THAT THERE ARE BETTER ANSWERS AVAILABLE TO INCREASE OUR IMMUNITY - SO PLEASE EDUCATE YOURSELF
TO MAKE AN INFORMED CHOICE.

Personal Source is dedicated to supporting each client in finding their own connection to intuitive guidance and that approach has proven to be highly effective - as it allows our healing to be a transformational experience on all levels, physically, mentally, emotionally, and spiritually. When this approach is balanced with integrative functional holistic nutrition and guidance - you have the full spectrum of all possibilities that can help healing to happen. This is the way that Aliah healed and can heal you as well. So make sure your Doctor is OK with blending these holistic tools into your healing process. Integrative, functional medicine blends the best of what is available today - and together with your Dr. - we are happy to be a part of your healing process and can help with your unique case... to compliment the care your are receiving from your Doctor. If your Doctor is not listening to your needs - find one that does and keep blending the FOODCOOL Organic Wellness LIfestyle and finding Doctors who support you in your process of healing.
PERSONAL SOURCE OFFERS SELF CARE TOOLS & SUPPORT
FOR OUR INTUITION & GUIDANCE TO LEAD US TO SOUCRE - AS EACH PRESON UNDERSTAND IT.
WE ARE HERE TO GUIDE & SUPPORT YOUR VISIONS OF AN OPTIMAL WELLNESS LIFESTYLE & SELF CARE
SO YOU CAN DO YOUR PART TO SERVE IN OUR PLANET'S AWAKENING TO
PEACE TRHOUGH WELLNESS
THROUGH INTERDEPENDENCY & STEWARDSHIP
THAT COMES WITH CONNECTING
PERSONALLY TO SOURCE.



BE THE DROPLET...
SENDING OUT CIRCLES OF POSITIVE CHANGE
IN ALL DIRECTIONS
ALL AROUND THE WORLD.